Audit Services - Dairy Sector
We are New Zealand's farm dairy audit experts!
We carry out third party farm audit services on behalf of all major dairy companies in New Zealand.
Our team of 30+ qualified auditors are familiar with the legislation and regulations affecting dairy farmers in New Zealand.
We design electronic audit checklists and forms to suit our clients' assurance programme requirements.  We can incorporate other aspects of farm management such as environmental or systems verification into the programmes we deliver.
Audit services we provide
3rd party verification
–   Regulatory Audits
–   Quality Systems Audits
–   Environmental Audits
–   Water sampling and testing
–   Milk cooling validations
–   Farm Dairy Approvals
Development and advice for Assurance Programmes
Design assurance programmes
Development of digital solutions to support audit process
Milk quality expertise
Consultancy – general advice
Business efficiency solutions
Electronic data solutions
App development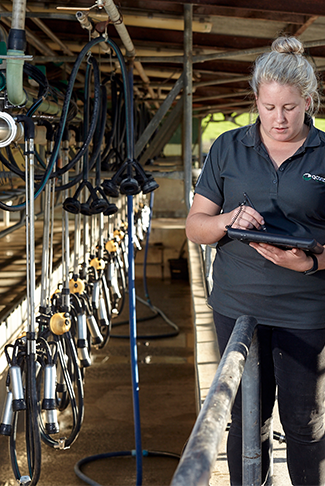 Certification Services
We work with the Dairy industry to develop and refine industry standards of quality, welfare, sustainability and biosecurity.  We work alongside the industry to roll out the standards and make any required changes to skills, practices, reporting and compliance.  We are then able to audit and verify dairy farms that are meeting the standard.
We do this by:
Working with industry stakeholders at all levels, from the dairy farms all the way through to the industry standards bodies and marketers.
Liaising with stakeholders to develop measures of quality, welfare and environmental responsibility to form the basis of an industry agreed standard.
Developing an electronic auditing platform to streamline the capture, analysis, and reporting of information.
Developing integrated training and on-farm coaching systems to upskill farmers.
Developing an integrated dashboard for each dairy farmer to enable them to quickly see how they are going and where they need to focus.
Reporting back to industry stakeholders and regulators.
A programme developed for the industry…by the industry… is accepted and 'owned' by farmers.  They know that QCONZ is there for the benefit of the farmers and the longer-term market access of the products they produce.