Audit Services - Poultry Sector
We have the skills and experience to provide auditing and training to the poultry sector in New Zealand and Australia. We have worked with some of the largest poultry organisations such as ProTen in Australia.
What we do in the poultry sector:
We work with industry stakeholders at all levels, i.e. the poultry farms all the way through to the industry standards bodies and marketers.
We liaise with stakeholders to develop measures of quality, welfare and environmental responsibility to form the basis of an industry agreed standard.
We have developed an electronic auditing platform to streamline the capture, analysis, and reporting of information.
We have integrated training and on-farm coaching systems to upskill farmers. This can also include the development of core work instructions as visual multimedia instructions. This is a great way to ensure consistency and compliance throughout the sector.
We developed an integrated dashboard for each poultry farmer to enable them to quickly see how they are going and where they need to focus.
We are also proficient at reporting back to industry stakeholders and regulators.
The final result is a programme that was developed for the industry…by the industry… it is accepted and 'owned' by poultry farmers.  They know that QCONZ is there for the benefit of the farmers and for the longer term market access of the products they produce.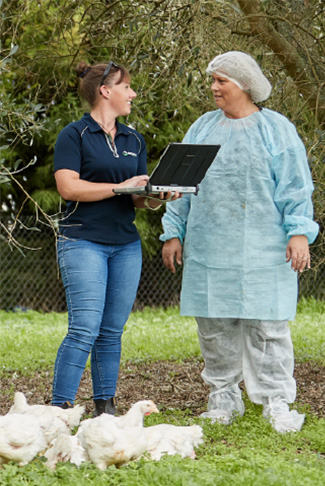 Case Study - SPCA Blue Tick
SPCA Blue Tick® is the only 100% independent animal accreditation in New Zealand. It is independent from the food and farming industries and run by SPCA New Zealand.
We certify that farming products have met animal welfare standards applied to New Zealand produced eggs, chicken and pork products, giving consumers the assurance that the products they are buying have been farmed to high animal welfare standards.
The SPCA Blue Tick® standards can only be met after confirmation by a Royal New Zealand SPCA employee or a third party auditor contracted by Royal New Zealand SPCA who has been trained to our SPCA Blue Tick® standards. Following this, the SPCA Blue Tick® will issue a 'Certificate of Approval' for the farm or the site that has successfully passed the audit.
Often the terms 'free range', 'free farmed' or 'free to roam' provide no assurance of animal welfare and may lead to consumers being misled by marketing terms, but we provide independent audits against the SPCA Blue Tick® standards. In fact, we audit every Blue Tick Supplier twice annually to certify that farming products have met SPCA's high animal welfare standards.
The SPCA Blue Tick® standards can only be met by a supplier after confirmation of SPCA Blue Tick® standards, successful audit outcomes, and following the supplier being issued a 'Certificate of Approval'.