Online Training Development
Virtual Coach
Virtual Coach, our very own online training system provides interactive, bite-sized learning modules that staff can complete online at a time to suit them and you. Virtual Coach is an extremely cost-effective way of supporting and developing staff.
Here at QCONZ we design and build online training courses for our business and for our clients to transfer knowledge and train staff on best practice procedures, client protocols and client audit requirements.
Talk to us about how we can help incorporate eLearning into your business.
Virtual Coach offers endless training options;
Protocol training and calibration
Technical and skills training
Pre-course and refresher training
Staff induction training
Health and safety training
Standard operating procedures
If you have a need for tailored online training but don't have the resource to build and make this accessible within your business, talk to us about Virtual Coach.
Case Study - Dairy NZ Milking Efficiency Course
To align with their Milk Smart programme, our client required a simple online training solution to share knowledge and help improve milking efficiency and comfort on farm. The training needed to be accessible by all dairy farmers in New Zealand and able to be completed at a time that suited them best. The solution needed to be available fully online, and offline where no internet was available.
With Virtual Coach, QCONZ was able to provide a fully customised solution that ticked all the boxes. An intuitive and easy to use solution that is informative and fun to use.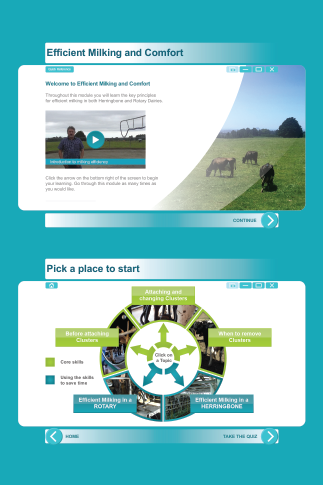 Developing an eLearning module
Virtual Coach Developer is the software we use to build our eLearning modules. We work with our clients to prepare a module plan and collate the material needed to assist learning.  Our team of module builders and graphic designers prepare the course graphics and assemble in Virtual Coach Developer. Modules are interactive and can include text, images, videos, audio, drag and drop exercises and assessment questions.
Access to eLearning modules
Virtual Coach eLearning modules are hosted on a server and accessed through Virtual Coach Player. Modules can be run on or off line via a pc, tablet or smart phone. Where internet access is limited, a fully installed version of each training course can be downloaded onto a device and completed remotely.
Results capture for individual training records
Virtual Coach courses are linked to a Learning Management System (LMS). Module attempts and assessment results for all completed modules can be captured in this system and retrieved by training administrators and reported on. Access to module assessment results helps gauge the users understanding of a topic. Tracking modules completed is important for compliance and audit requirements.
Click here to learn more about the Learning Management System