This app is designed to provides farmers with their latest milk quality test information and milk production trends from their smartphone.
Benefits include:
Keep up to date with easy access to milk quality results
Instant milk grade alerts
Milk collection history for trend analysis and benchmarking
Password protected, multi farm access
Auto updates results when connected
Unlimited user logins per farm
How it works
The milk quality app is a communication solution. The milk test data and collection volumes are auto-updated by the factory to the app and then rolled-out immediately to farmers.
Along with milk test results, this app provides a highly visual and graphical interface for farmers to quickly see how their production and milk yields are going, with the ability to compare with last season's performance. This data can be used to help make quick and informed stock and pasture management decisions.
Case Study - Mataura Valley Milk
Mataura Valley Milk is taking milk from one of the finest grass-producing regions in the world to produce exceptional nutrition for a growing world. Their pasture to market supply chain will produce a range of premium nutritional products destined for the world's most discerning markets. They're combining the best ingredients, people and technology to build 'the World's best nutrition business'. QCONZ plays a part in helping Mataura Valley Milk be the best.
Mataura Valley Milk came to QCONZ with the need to provide high quality, real-time production and milk quality information to their suppliers. They wanted to work with a company that could relate to their farmers, and that knew the challenges and opportunities that could come from being part of a world class dairy operation. QCONZ was able to leverage its 20 years of experience and 500,000 farm visits to develop an App that delivered farmers with the info they needed, when they needed it, and in a highly engaging easy to use interface.
Our QCONZ IT team were able to get alongside the Mataura Valley team to develop the spec, we know the issues, know the jargon and also know what is needed to roll-out an App in rural New Zealand.
The solution was delivered on-time and on-budget.
Mataura Valley, like all of QCONZ's clients, benefits from ongoing support and the ability to add additional features as the company's needs change.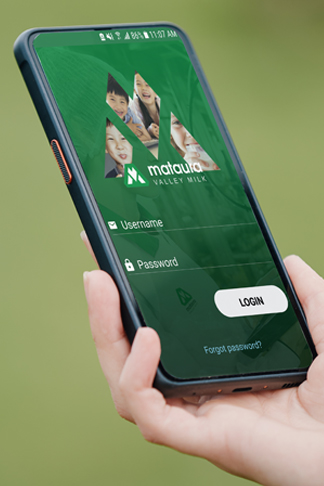 Other custom built apps we have designed